IPC Router
(PDF)
The IPC router is an intelligent internal network (LAN) device. Its primary functions are to facilitate the routing, signaling and media validation of IP video and audio (SIP/H.323) packets without modifying or impeding the integrity of such packets. As with the Secure IPC controller each IPC router also features an intelligent integrated H.323 gatekeeper (HR series router) and/or SIP registrar (SR series router) for providing seamless interoperability with a myriad of devices regardless of their native transport protocol version or requirements.

IPC routers also make provisions for a mixed protocol environment (MR series router) when it is required or necessary to facilitate a translation between transport protocols. Its communication includes but is not limited to (SIP/H.323) enabled PBX, MCU, video endpoints, gatekeepers, proxies and gateways. The IPC router has the ability through its advanced routing technology to provide non-bridged resolution of isolated and disparate internal networks.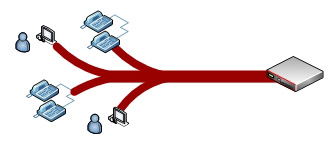 The IPC router is a valuable tool when designing or updating networks that have in limited fashion, or never at all, been capable of IP communications. The IPC router minimizes the time required of administrators for management and configuration, as well as offloading the majority of mandatory ACL's and routing policies needed by traditional networking devices to facilitate IP video and audio communication. When paired with an IPC controller the IPC router becomes the initializing appliance within the Secure IPC communications platform.
The STNS firewall traversal solution will route voice and video between disparate firewalled networks, often without the need to replace endpoints, routers, switches, PBX, or gateways.
Need a portable IPC Router? Try the Remote Executive Office (REO)

Initiating (LAN) appliance within the Secure IPC communications platform and Secure Endpoint Management System. Engineered to promote ease of use and scalability, REO is available with a wizard based Graphical User Interface and has a 6"X6"X1" footprint.